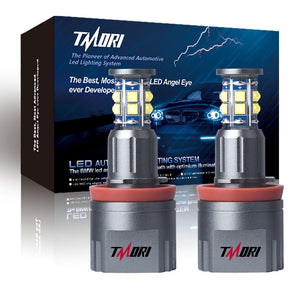 The Tmori H8 angel eyes use 12 of the latest and most efficient Cree XP-G3 LED's to offers unmatched brightness while its patented design makes both the inner and outer angel eyes as bright as possible. The patented heat sink design has a single flat side which correlates with the connector side of a standard H8 bulb, allowing for easier orientation when installing.  Now offering a frosted glass shield to protect the LED's as well as uniformly blend the light

        Tmori H8  angel eyes produce a total of 3000 lumen which is the halogen equivalent of 1500 watts!  The stock 35 watt halogen bulb receives only 80-90% power and then drops to 50% power when utilized with the headlights; thus causing the angel eyes to become much dimmer. This is done to reduce heat within the headlight housing.  Our Tmori H8  angel eyes compensate for this dimming and always operate at full power allowing them to be clearly visible in the daytime. When locking the car, the the Tmori will pulse off rather than fade.  Our LED bulbs use a fraction of the power allowing them to run cooler and have a longer lifespan.
    Note - a large majority of other brand LED Angel Eyes do not compensate for the dimming and will have reduced outputs.
The Tmori H8  offers the following Features:
      • The halogen equivalent of 150 watts of light 
      • 100% no Dimming in all headlight modes
      • No flickering on Self Check Sequence
      • Fully Fused and No EMI
      • New Heatsink design for Much easier installation
      • Brightest H8 Style adjustable LED Angel Eyes on the Market
      • US Patent Number 8,749,143
** Please Note - the Fade on/off feature of the angel eyes may cause the lights to pulse rather than fade smoothly
The Tmori H8  Compatibility:
    • 1-series and 1M – E82 (with Xenon) | (2007-2013)
      • 3-series Coupes – E92 | (2007-2010) ***See below
      • 3-series Convertibles – E93 | (2007-2010) ***See below
      • 3-series Sedan/Wagon LCI (with Xenon) – E90, E91 | (2009-2012)
      • M3 coupes /convertible / sedans – E90, E92, E93 | ( 2006-2013)
      • 5-series Sedan LCI ( with Xenon)| (2008-2010)
      • X1 (with Xenon) – E84 | (2010-2012)
      • X5 ( with Xenon) - E70 | (2007-2011)
      • X6 – E71 | (2008-2012)
      • X5M / X6M – E70 / E71 | (2008-2012)
      • Z4 – E89 | (2009-2012)
*** Please Note: E92's/E93's Manufactured before March 2007 are Not compatible.  Please contact directly for a version that will work correctly.
The Tmori H8  Install Guide:
Caution - Damage to LED's during installation is not covered by warranty. Please take care not to hit or apply pressure to the LED's
Do NOT look directly at the LED's while they are on as they very intense
The Tmori H8  FAQ:
Q - What is the warranty on these?
A- There is a 1-year warranty on all Tmori Products
Q - What is the return policy?
A- Please click on the Returns link at the bottom of the page
Q - Do the lights dim at all?
A- No we have designed these to compensate for the dimming feature and they will stay at full power
Q - Will these match the stock headlight bulbs? 
A- Since they are adjustable color you can make them match the stock headlight bulbs or most all aftermarket bulbs as well
Q - How long will these last?
A- These lights are designed with the highest quality components are are designed to last for many years. We have some of our original sets still in operation from 9+ years ago
Q - Will they cause any errors or warning messages?
A- No these will not cause any warning, errors, or onboard messages